XCELON INDUSTRIAL PARK, Vasna Chacharavadi, Gujarat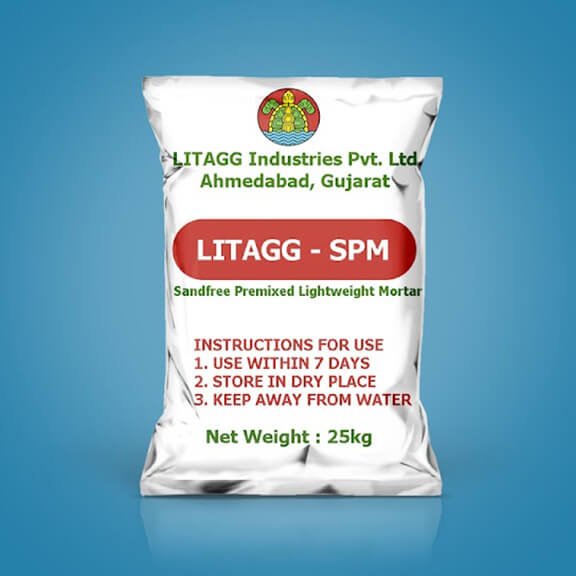 LITAGG - SPM
Litagg-SPM Sand free Pre-Mixed dry mortars is manufactured under controlled conditions of selection and blending to suit specific application needs and has numerous advantages over jobsite mixes. Convenience for applications for all small to large construction projects.
Litagg SPM is supplied adding lightweight composites for wide application as : Lightweight Waterproofing Insulating Concrete Mortar
Litagg SPM are customized for easy transportation, handing and application. It is easy to apply (DO It Yourself ) or INSITU, just by adding/mixing of water.
Litagg SPM makes convenient and efficient way for application saves : Energy , Time and Space
Applications
Roof over deck

Terraces

Lightweight floor fills

Screeds for sunken toilets/bathrooms

Roof / Terrace gardens

Hollow / Cavity walls filling
Technical Specification
Appearance/Shape : Sub-angular / sub-rounded grey mortar
Density ( Oven Dry) : 1300- 1450 kg / m3
Compressive strength : @60 Kg/cm² after 28 days
Coverage per 25 kg bag : > *@ 2.0 SQ.FT / 75mm ( @3 inch) thick
Packing : 25 kg HDPE bag